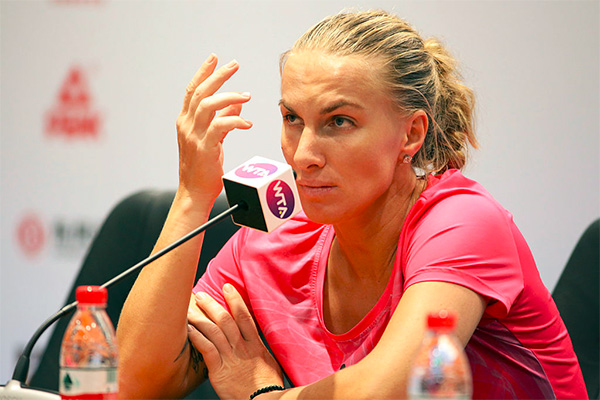 MOSCOW, Russia – As the last Premier-level event of the year and the last tournament before the BNP Paribas WTA Finals Singapore presented by SC Global, the Kremlin Cup has been witness to many last-minute qualification campaigns from hopefuls looking to claim the final spots into the WTA's season-ending event.
This year is no different, with a three-way battle royale set to play out over the eighth spot.
"We all know that VTB Kremlin Cup is the last chance to get into WTA Finals in Singapore," Carla Suárez Navarro admitted during her WTA All Access Hour.
Defending champion and top seed Svetlana Kuznetsova and No.2 seed Suárez Navarro are on a collision course in Moscow, and the stage looks set for a finals day showdown with more than just the title at stake. If Kuznetsova or Suárez Navarro walk away with the Kremlin Cup crown, they'll qualify for the WTA Finals.
However, Johanna Konta looms in background; if Kuznetsova and Suárez Navarro fail to claim the title then Konta – who is not competing this week – takes the eighth Singapore spot by default.
But if they're feeling any pressure, both players are quick to shrug it off and focus on the task at hand.
"If I win the tournament, it would be amazing and that's what I am expecting," Kuznetsova said during her All Access Hour. "But I don't want to go that far ahead. My goal is to concentrate for tomorrow. I know I will to my best and to fight in every match."
"There are a lot of good players [here in the draw]," Suárez Navarro shrugged. "Every match will be tough for sure, I don't think too much about Singapore."
Kuznetsova took a last-minute wildcard in order to defend her title – and make a last-minute push for Singapore – though she explained that it was due to a scheduling error, and not a late change of heart.
"There's a lot of talks around, but I am concentrated on my schedule and if I feel I can do it and want to play here. I really wanted to be here. I just didn't choose the right time to sign in," the Russian explained with a rueful smile.
"I am a tennis player and want to concentrate on every match and to show a good level of the game," she added. "If I get in, it's good. But I am more concentrated on my performance here."
For Suárez Navarro, the situation is all too familiar. Last year, she made the trip from Beijing to Moscow and fell just short of qualifying for the Finals.
This time, the Spaniard is keen to change the outcome, especially since her fortunes rest completely on her racquet.
"Some players do follow the results of others, but it is not my case, it all depends on me," she explained. "Probably because it is the end of the year, I don't think about other tournaments. I should play match after match and it won't be easy for me."
"But I feel better this year, I have more experience."