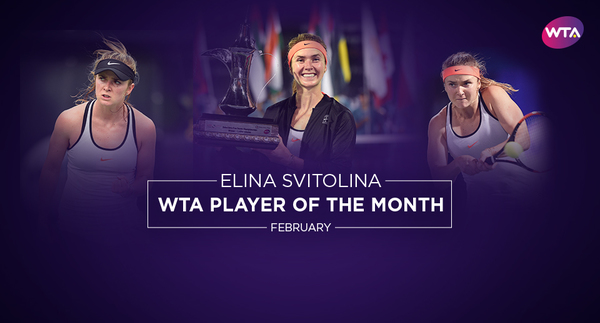 Elina Svitolina came to the Dubai Duty Free Tennnis Championships on a winning streak from winning her fifth title at the Taiwan Open, and on the cusp of a Top 10 debut.
The young Ukrainian made her first leap into the big time in the desert, scoring back-to-back wins over Angelique Kerber and Caroline Wozniacki to win the biggest title of her career.
"I always try to take one step at a time. It's very important for me to not rush things, and to stay very positive with myself," she told WTA Insider in her Champions Corner Interview. "I did a lot of work with all the coaches I've had and my new team, so it's always nice to have different opinions on my game. With Justine as well, it was an amazing year.
"I'm very happy with the way I'm playing now. Of course, there's so many things that I need to work on, and I'm looking forward to new challenges."
Svitolina had shown flashes of brilliance in the past, reaching the final of the Huajin Securities WTA Elite Trophy Zhuhai and earning a pair of wins over World No.1s in 2016 – knocking out Kerber in Beijing and Serena Williams at the Olympic tennis event – but the 22-year-old is really on a roll now, winning 13 straight matches, breaking into the Top 10, and rocketing up to No.2 on the Road to Singapore leaderboard.
"Of course there's been ups and downs with me, with my game and with my career. There will be more in the future. The only thing I can do is accept this and work hard and go on court, the gym, work even harder and always have this goal in my mind. That's what drives me. I think I'm very lucky that it's been going very consistently."
All that success certainly helped her earn her the mantle of February's WTA Player of the Month!
Final Results for February's WTA Player Of The Month
1. Elina Svitolina (63%)
2. Kristina Mladenovic (27%)
3. Karolina Pliskova (10%)
2017 WTA Player of the Month Winners

January: Serena Williams
---
How it works:
Finalists are selected by wtatennis.com
Winner is then determined by a fan vote on wtatennis.com