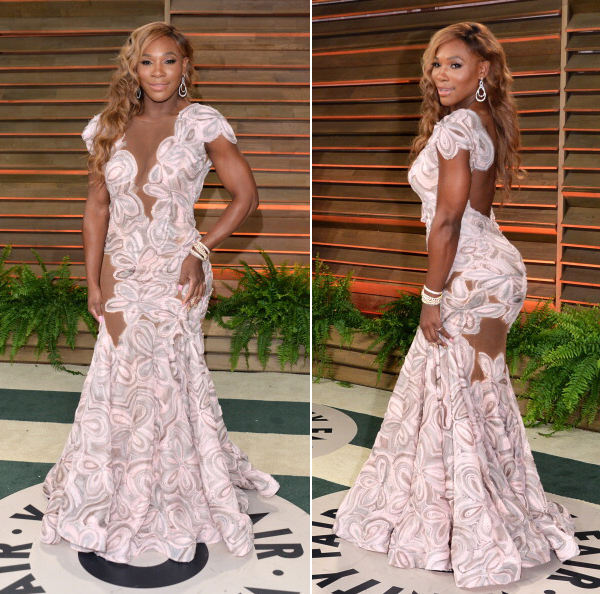 On Tuesday Sports Illustrated released its inaugural Fashionable 50, a list of athletes that a panel of sports and fashion experts evaluated as most fashionable, and WTA's Serena Williams proudly stands in the Top 10. SI's experts took into account not only what, where and why the athletes pick certain clothes for their on-court and off-court appearances, but their overall involvement in the world of fashion: designer collaborations, presence at fashion shows, investments in fashion, endorsements and other partnerships, social media activities, etc. Guest contributor Marija Zivlak of Women's Tennis Blog breaks down Serena's most iconic fashion moments.

The 2014 Vanity Fair Oscar Party in West Hollywood, California
When it comes to tennis, Williams is firmly holding on to her No.1 ranking, but the 21-time Grand Slam champion's fashion dominance is just as fierce and commanding, so it comes as no surprise that SI's experts ranked her at number four of the Fashionable 50.

Serena Williams at the 2004 US Open
From her beginnings on the professional circuit to this day, Williams has stood out both with her powerful game and daring fashion. We still vividly remember the colorful beads Williams wore as a teenager back in the 90s, while now at 34 years of age Williams is still pushing the boundaries, be it with animal prints, provocative designs, or simply with the way she pulls of even the simplest outfits.

Serena Williams at the 1998 US Open
When Williams finishes sweeping past her opponents, she embraces haute couture for runway and red carpet appearances. The look that SI singled out in their Fashionable 50 list is the provocative lingerie-style lace dress from the Sports Illustrated Sportsperson of the Year award ceremony.

Sports Illustrated Sportsperson of the Year award ceremony, December 2015
Williams is not only a consumer of stunning clothes, the tennis legend has been active in the fashion world with her Serena Williams Signature Statement Collection for HSN, which she proudly presented at New York Fashion Week in September 2015, with Vogue's Anna Wintour and other celebrities sitting in the front row. The collection revolves around fringe and leather motifs, while Williams herself described it as "a little bit retro, romantic, and extremely innovative."

Serena Williams presenting her collection at New York Fashion Week in September 2015
In an interview for Vogue, Williams talked in more detail about the clothes that bear her name: "I want [my customers] to feel empowered. I want them to feel beautiful. The collection works on every size person. You should [be able] to look good and feel good and love who you are and, at the same time, be stylish."

Serena Williams at the 2014 US Open
Serena earned her place in the prestigious Top 10 of SI's Fashionable 50, but two other WTA stars also made the list: Maria Sharapova and Venus Williams.
Maria Sharapova with her 2014 French Open trophy
Described as "red carpet stunner" by SI, Sharapova is known for her sophisticated taste, comprehensive business sense that has a lot to do with stylish clothing, numerous fashion show appearances, and let's not forget her work with Nike that produced a number of memorable tennis dresses.
Venus Williams at the 2015 Miami Open
Venus, on the other hand, has managed to grow her athletic apparel line EleVen so much that now it competes with sports apparel giants, largely owing to her fashion degree from the Art Institute of Fort Lauderdale, as well as her work ethic and innate wish to succeed that brought her all the tennis successes in the first place.
Visit Sports Illustrated's Fashionable 50 for a complete list of the world's most stylish athletes. The new issue of SI hits newsstands on Wednesday, April 13.
All photos courtesy of Getty Images.