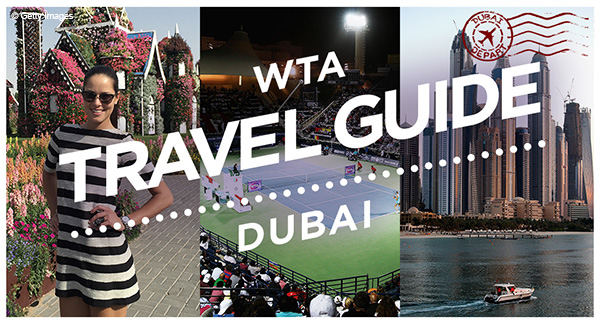 The stars of the WTA are about to descend on the luxurious, modern city of Dubai for the 2016 Dubai Duty Free Tennis Championships. Dubai has been a favorite tour stop since it became a joint event in 2001 and this year's event will feature World No.1 Serena Williams along with defending champion Simona Halep, 2013 champion Petra Kvitova and our guest contributor, Ana Ivanovic. The WTA Travel Guide is here to tell you everything you need to know about visiting the City of Gold.
WATCH THE MATCHES
The Dubai Duty Free Tennis Centre is host to the two-time winner of the WTA Premier Tournament of the Year award, with the Dubai Duty Free Tennis Stadium serving as center stage for the matchups of some of the WTA's best. Tickets are available here. Main draw begins February 15 and runs through February 20, with qualifying taking place February 13 and February 14.
Dubai Duty Free Tennis Championships Official Homepage
WHERE TO STAY
If you're looking for a place to stay while in Dubai, it doesn't get more convenient than the Jumeirah Creekside Hotel, which is located adjacent to the Dubai Duty Free Tennis Centre and minutes away from the Dubai International Airport. A 5-star resort, with 292 rooms, the Jumeirah Creekside Hotel features two outdoor pools, fitness facilities, two restaurants, two bars, a lounge and a healthy café. You'll also be able to unwind at the Akuru Spa, or if you were inspired by watching the WTA matches, head to one of the four tennis courts to work on your game.
Jumeirah Hotels
WHERE TO EAT
For a good meal after taking in a day of matches, head over to the Century Village for a beautiful al fresco dining experience and 10 different world cuisines to sample from including Lebanese, Italian, Portuguese, French and more. Also within walking distance from the courts is Irish Village, offering a true Irish experience in the heart of Dubai.
Restaurants in Jumeirah Creekside Hotel
ANA IVANOVIC'S FAVORITE SPOTS
"I always look forward to coming back to Dubai. Not only is the Dubai Duty Free Tennis Championships one of my favorite events on tour, but also the city itself has so much to offer. Here are my favorite spots:
Dubai Miracle Gardens is perfect for an afternoon stroll amongst the beautiful flower arrangements. Take a drive down Sheikh Zayed Road for the quintessential Dubai drive and a chance to see all of the iconic architecture along the way.
Luckily for me, one of my favorite restaurants in the world is located in Dubai. Head to Nobu for incredible Japanese food (like this sushi I had last time I was there)! Other favorite restaurants of mine include La Serre, Cle and Armani Italian. And, no trip to Dubai would be complete without some world-class shopping at the Dubai Mall."
Visit Dubai
Dubai Duty Free