Wednesday Preview: Nadal Tries To Rebound Against Medvedev; Tsitsipas & Zverev Reignite Rivalry
Nadal and Medvedev have already played twice this season
Just two months ago, Rafael Nadal and Daniil Medvedev battled in a five-set epic in the US Open final, with the Russian forging a memorable comeback before the lefty showed his steely resolve to earn a 19th Grand Slam title. Both will need to bring their best to The O2 on Wednesday as they seek to earn their first victory of the 2019 Nitto ATP Finals.
Nadal leads Medvedev 2-0 in their FedEx ATP Head2Head series, with both of their matches coming this year. They are used to high stakes, with their previous battles coming in the final of an ATP Masters 1000 event (Montreal) and a Grand Slam (Flushing Meadows). It will be no different in London, as they try to avoid going 0-2 in Group Andre Agassi play.
Nadal withdrew from his Rolex Paris Masters semi-final less than two weeks ago due to an abdominal strain. But the Spaniard said after his straight-sets loss on Monday against Alexander Zverev that he felt fine, and simply did not play well enough to beat the German.
"It was not a problem with the abdominal at all. I did not feel pain in the abdominal at all. Just Sascha played well and [I] played bad, honestly. We can find reasons or excuses, but at the end of the day, [all that] really matters is I need to play much better," Nadal said. "I stay positive. I stay competitive, something that [against Zverev] I was not. That's the thing that I am more disappointed [about], because knowing that I will not be at my 100 per cent in terms of feelings, in terms of movement, in terms of confidence or hitting the ball, I needed my best competitive spirit [against Zverev], and I was not there in that way."
Nadal will look to turn that around against Medvedev, who in falling to Stefanos Tsitsipas dropped consecutive matches for the first time since June. He will have to raise his level against Nadal, who has lost his first two round-robin matches at the Nitto ATP Finals just once (2009) in eight appearances.
"I'm struggling a little bit with finding back my level I had in the USA and Shanghai and St. Petersburg, which is… I think normal for any sportsman, and that's what is amazing about the top three, Big Three and Murray before, that even when you kind of look at them and you think, 'Okay, they are not playing as good as they can', they still win these matches," said Medvedev, who recently advanced to the final of six straight tour-level events he played. "That's what I'm missing right now, and that's what I'm going to try to work on and still have two matches to come. Hopefully [I] can play them better."
Medvedev, the fourth seed, has earned eight Top 10 wins this season, making his career's total nine. As a tournament debutant — two years after competing in the Next Gen ATP Finals in Milan — Medvedev seeks his first victory at the Nitto ATP Finals.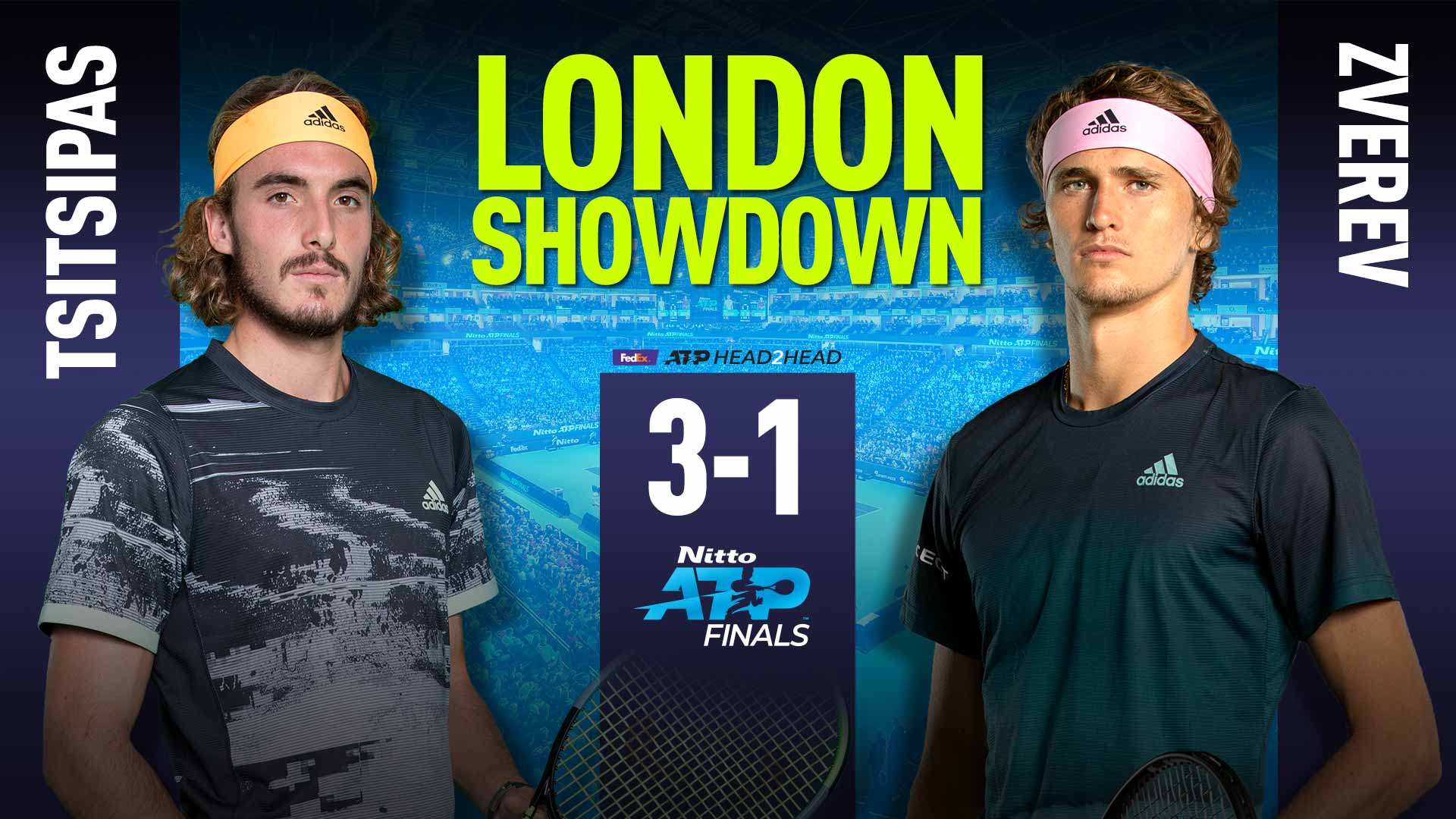 In the evening singles match, defending champion Alexander Zverev and first-time qualifier Stefanos Tsitsipas will meet in the youngest match at this event since a 22-year-old Andy Murray beat a 21-year-old Juan Martin del Potro in 2009 round-robin action.
Zverev entered the tournament 1-5 this season against Top 10 opposition. But with his opening victory against Nadal, the German has now won five of his past six matches at the season finale, all of which have come against Top 10 players.
The 22-year-old's three most recent victories at The 02 have come against the 'Big Three'. He is the first player to defeat the legendary trio at this event. In those matches, he did not drop a set, breaking serve nine times.
But Tsitsipas has proven a challenging foe for Zverev, leading their FedEx ATP Head2Head series 3-1, with two of his wins coming this year.
"[They were] both fantastic matches. Especially I think in Beijing it was very, very close and could have gone both ways, even though it was two sets," Zverev said. "It's going to be interesting. He played a fantastic match [against Medvedev], I thought, especially for the first time playing here. It's never easy. I'm looking forward to it."
Tsitsipas will carry confidence into this matchup after defeating Medvedev for the first time on his sixth attempt. The Greek star let it be known all year he wanted to compete in the season finale. And after an impressive debut on Monday, there are scenarios in which he could qualify for the semi-finals on Wednesday.
Group Andre Agassi Semi-final Qualification Scenarios
 Tsitsipas qualifies on Wednesday if…

– Tsitsipas defeats Zverev and Medvedev beats Nadal.
– Tsitsipas defeats Zverev in two sets and Nadal beats Medvedev in three sets.

 Zverev qualifies on Wednesday if…

 – Zverev defeats Tsitsipas and Nadal beats Medvedev.
 – Zverev defeats Tsitsipas in two sets and Medvedev beats Nadal in three sets.
"It was actually even better than I dreamt of it," Tsitsipas said after beating Medvedev. "I felt very relaxed today. I don't know why. Just the importance of me standing on this court just relaxes me, for some reason. I feel really comfortable, and I felt like I had nothing to be afraid of. Just being on that court is already a big excitement, a big joy. It's something that I dreamt always, and it does feel very special."