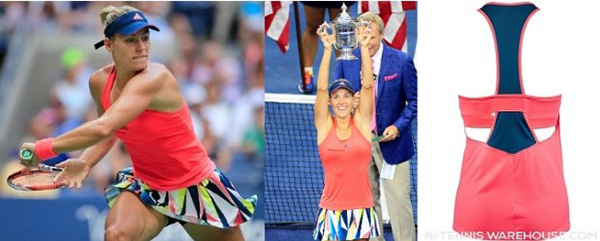 Looking for a nice Christmas gift for your tennis-loving friend or a treat for yourself? Marija Zivlak of Women's Tennis Blog will help you pick the best presents.
If you wish to surprise someone with a kit worn by a top WTA player, look no further than adidas' range launched at the US Open. Angelique Kerber lifted the champion's trophy wearing the adidas Fall Pro Tank, featuring adjustable shelf bra and contrast racerback with mesh insert, and adidas Fall Pro Skirt, whose famous geometric print draws inspiration from New York City's famous skyscrapers. Both the items are equipped with Climacool moisture management.
There's also this Ana Ivanovic adidas Fall Pro Dress, one of the most beautiful designs of the season, while if you're not into skirts, there are Simona Halep stunning adidas Fall Pro Shorts, whose built-in printed compression shorts peek through a woven mesh layer.
Even though other models were promoted far more on the courts, the adidas Barricade Classic Bounce remains the cutest shoe I've seen this year. Whether you like it in green or red, it promises high levels of cushioning, stability and comfort. Since the shoes were introduced even before the Australian Open, their discounted price makes them extra attractive.
If you're looking for more affordable presents and stocking stuffers, there's no shortage of options to surprise your tennis friends.
You can't go wrong whether you choose this 2-pack Nike hairband in pink and deep garnet, the black and white option with a stylish split section, or adidas' 3-pack in purple and slime. All the hairbands have silicone/gel that keeps them in place.
Everyone needs a white visor, even if they have several already. Stella McCartney offers the most beautiful one, with lovely mesh lining on body and subtle adidas and designer logo.
Wristbands also make a great affordable gift. You can pick these purple ones from Nike's new collection, these discounted red adidas ones, or these classic white Fila ones.
One can never have enough socks and these adidas Climalite striped ones are adorable!
Narrowing down a selection of bras, I've come down to these three: this light blue EleVen bra with crossed spaghetti straps, this secure and compressive Nike bra that offers multidirectional medium support, and this purple Under Armour bra with stylish straps for lightweight support.
If you'd like something that is extravagant, yet not expensive, pick these pink Nike arm sleeves, that Serena Williams sported at the US Open. They offer a UPF 40+ protection.
Finally, it's time for some luxury. If you want a tennis bag that provides a stylish transition from a stroll in the city or a business meeting to a tennis practice, Court Couture Karisa Black Pebble Bag is your perfect splurge. The racquet department of this embossed faux leather bag fits two racquets. There are inner and outer accessory pockets, as well as a separate cosmetics case to carry your essentials.
If you're still unsure whether any of these items are the best picks for you, don't risk and give your friend a Tennis Warehouse gift card. There are tons of things to choose from and a lot of them are discounted now!