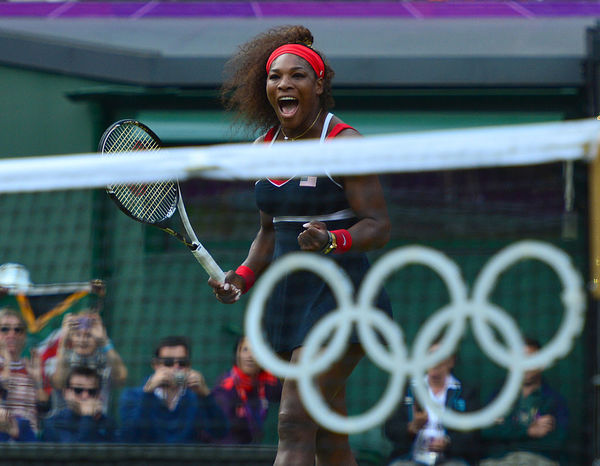 It has been nearly 16 years since the Olympics first welcomed a still-teenaged Serena Williams, who turned 20 years old during her debut in Sydney. Fresh off her record-tying 22nd Grand Slam title, the World No.1 aims to to truly experience the Games for the first time in her storied career.
"I actually was just talking to Venus about the Olympics a few seconds ago, and how excited we are to get there," she said at the French Open. "I was like, 'I've got to do the opening ceremonies this year.' Usually the tennis is the same day. So we'll see. Hopefully I'll be able to make something. It's just going to be a really cool experience and I'm really excited about it."
She may have missed out on some of the pomp and circumstance each Olympics provides, but Serena has nonetheless been a integral part of her sport's presence at the Summer Games. She has taken home at least one gold medal in each of her previous three appearances – including her first in 2000, when she helped sister Venus secure a sweep of singles and doubles.
Her most recent outing was her most successful yet, winning her first gold medal in singles and pairing once more with Venus to win in doubles.
"My experience has been really amazing at the Olympics," she said at Wimbledon. "I really loved going out there and competing, really just, you know, standing out there and being an Olympic athlete.
"It is really one of the best experiences that I've ever had."
That pride is evident in an ad spot she did with Mini USA, where she reflected on her Olympic journey as part of a campaign emphasizing the importance of defying labels.
"No one can say, 'This is what you're supposed to do,'" she says in the video. "When you think of all the Olympic athletes, they are really doing something that is beyond everything that they should have done – having the chance to win a gold medal and compete against the best of the best across the globe."
Her gold medals may be among her most prized possessions, but as the American aims to break Stefanie Graf's record of total Grand Slam titles, how firm will her focus be in Rio?
"I've won gold. I love gold. I mean, for me, if I kept one trophy, I would probably grab my gold medals. But right now I am probably focused a little more on the Slams, or at least I was with getting to 22.
"Now I feel like, you know, everything else will be pretty good."
A fourth trip to the Olympics would be a bonus for any athlete; it may be an even bigger bonus for the fans who've so rarely seen one of the greatest of all time play in their part of the world. But as Serena herself has often said, everything is a bonus for one who has achieved so much.
Don't expect her to give up the gold so easily.
All photos cortesy of Getty Images.