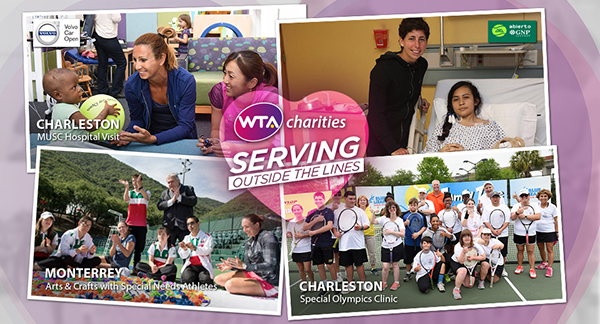 Doi, Jurak & Ostapenko Visit Children's Hospital
Earlier in the week, Misaki Doi, Darija Jurak and later Jelena Ostapenko stopped by the MUSC Medical Center to visit kids in the hospital. The players hung out and played with the kids in the atrium of the children's wing.
Atawo Hosts Special Olympics Tennis Clinic
Meanwhile, Raquel Atawo went and hit with the tennis players from the Special Olympics South Carolina. They ran through some drills and she gave them pointers on their game, and later answered all their questions at a Q&A session.
Also as a part of WTA Charities initiatives in Charleston, Ons Jabeur acted as a celebrity server at a fundraiser for special needs and disabilities and Kayla Day also paid a visit to Joint Base Charleston, a military base housing the United States and Charleston's Navy and Air Force facilities.
Suárez Navarro Visits Monterrey Hospital
Meanwhile in Monterrey, Carla Suárez Navarro took time out of preparation for the Abierto GNP Seguros to visit the Christus Muguerza Hospital.
The Spaniard got the chance to meet and chat with the young patients there, who were in recovery from advanced scoliosis, and even signed some tennis balls for them as a keepsake.
See more photos of Suárez Navarro's visit here!
Americans Get Artsy With Special Needs Athletes
Ashley Weinhold and Caitlin Whoriskey spent Tuesday morning with a group of athletes that are part of the Special Needs Athletes Association of Nuevo Leon.
The American players helped the athletes paste small scraps of tissue paper on a banner filling the Abierto GNP Seguros logo with bright colors, and the morning ended with everyone enjoying some tasty tacos.
Click here to see the finished product!
– All photos courtesy of Volvo Car Open and Abierto GNP Seguros
---
WTA Charities is the WTA's global philanthropic organization dedicated to making a positive impact across the globe. Our mission is to be a social responsibility vehicle built on the WTA's values to empower and provide for a better future. We're dedicated to combining, strengthening and enhancing the community and charitable efforts of the WTA through its members (players, alumnae and tournaments), along with our partners.
Click here to see more WTA Charities activities!