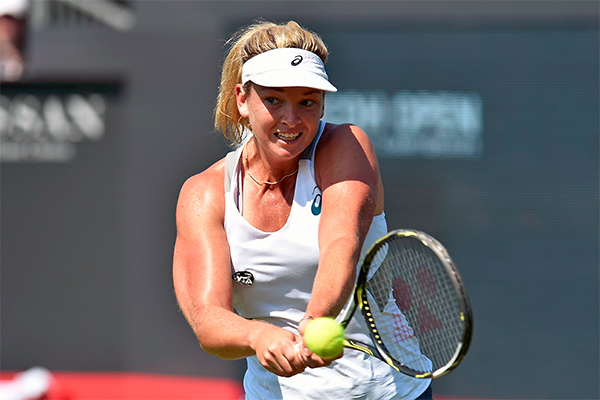 'S-HERTOGENBOSCH, Netherlands – No.3 seed Kristina Mladenovic battled through fatigue and a surging Russian qualifier Natalia Vikhlyantseva to reach the quarterfinals at the Ricoh Open, 5-7, 6-3, 6-4.
Watch live action from 's-Hertogenbosch this week on WTA Live powered by TennisTV!
Mladenovic acknowledged that the quick turnaround from the Roland Garros clay – where on Saturday she won a Grand Slam doubles title with partner Caroline Garcia – to the grass of 's-Hertogenbosch was tough on her. In fact, it left her participation in the Ricoh Open up in the air.
"I have to be honest, I'm a bit surprised to be in the quarterfinals here," Mladenovic admitted. "But I love the tournament, grass is one of my favorite surfaces.
"I was thinking about maybe pulling out, because obviously there is fatigue. I'm a bit tired, but I wanted to commit because I love this tournament and that's why I keep coming back a couple of years in a row."
Standing between Mladenovic and the quarterfinals was Russian qualifier Vikhlyantseva, who last round scored an upset to oust Denisa Allertova. Vikhlyantseva played far above her No.254 ranking to take the first set from the Frenchwoman, breaking twice to rattle off the last four consecutive games and take it 7-5.
The Frenchwoman grabbed an early break in the second set to rally to a 5-2 lead. Despite Vikhlyantseva getting one back, Mladenovic closed her out at her next chance, 6-3. In the deciding set, Mladenovic again felt pushback from Vikhlyantseva, staying toe to toe with her all the way to 4-4 before pulling away to take the match and her spot in the quarterfinals.
Mladenovic chalked up her first set stumble in part to the unknown factor of playing a new opponent for the first time, although the only thing she's thinking about now is a well-deserved break.
"I didn't know much about her," she said of the 19-year-old Russian. "She's very young and seems to be very talented and not easy to play on grass. Not much rallying and she has good serve. But I just had to dig in there."
"To be honest, I'm very satisfied to be into the quarters tomorrow. I guess I will have a day off to try to recover – I still feel like I'm on clay in Roland Garros!"
2014 champion CoCo Vandeweghe is also through to the quarterfinals of the Ricoh Open. Despite an innocuous-looking scoreline of 6-2, 6-3 over Nao Hibino, Vandeweghe survived a doozy with six break of serve in the first set alone. In the second set, she rattled off six straight games to turn around a 3-0 deficit.
"Today was a very tricky day for me, mentally," Vandeweghe said afterward. "I wasn't as focused as I would like to be. But I managed to overcome it today.
"That's kind of the name of the game, to just keep moving on, keep going through the second round."
Also through are Belgian qualifier Elise Mertens, who defeated Aleksandra Krunic 6-4, 7-6(3); and Madison Brengle, who edged through in a battle against Dutch favorite Richel Hogenkamp, 7-5, 5-7, 7-5.