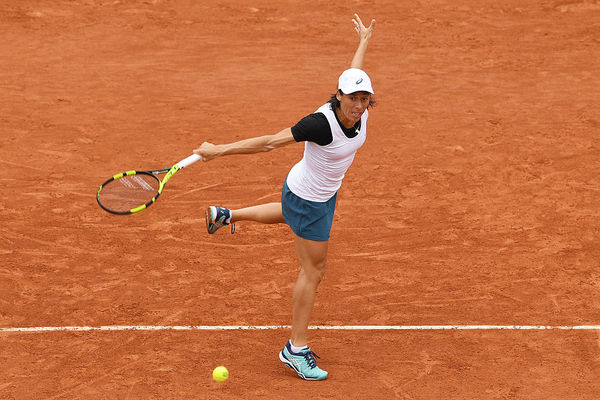 PARIS, France – The interview rooms at Roland Garros have been just as busy as the grounds through Week 1. Here are some of the best quotes from a hectic week.
"I just made it a point to play my game. Up until that point I had not been playing my game. I was playing really defensive. It's not me. So I just wanted to be Serena out there."
– Serena Williams on how she steeled herself for the second set tiebreaker after a long rain delay against Kristina Mladenovic.
"My youngest [sister] actually called me yesterday and I answered the phone and she was just like, 'Where are you?' I'm in Paris. 'Are you in the French Open?' Yeah, I am. 'Oh. The teacher asked me about it and I wasn't sure.' Yeah, no, I'm here.
'Paris sounds like a really good place to buy me presents.' You know, it's really expensive stuff so I feel like you probably wouldn't like it. 'No, no, I probably would.' I was like, We'll talk about it.
Then she said, 'Okay. Here's mom.' That was the end of our conversation. (Laughter.)"
– Madison Keys reenacting a phone call she received from her sister last week.
"So Roland Garros announced my retirement, but I didn't. So you can stand up all of you and go back to work in the office because I didn't say that. I will announce when I will want to stop."
– Francesca Schiavone clarifying an announcement that she had played her last match.
"It's unacceptable really to lose ten games in a row in a match. I think that my focus a little bit was the part that let me down, the mental part. Something I've been working on. I had been getting better, so it's not always going to be good.
But, yeah, I mean, I wish I would've done better."
– Eugenie Bouchard after her 6-4, 6-4 to Timea Bacsinszky in the second round.
"I'm definitely disappointed and I'm definitely feeling like I should do much better. I feel like my results should be better, especially after two great weeks in Dubai and Doha. I was playing very well.
I feel like I lost a few close matches in Indian Wells and Miami, and I lost my confidence after that. Was really difficult for me to regain it. I had a couple tough draws with Madison Keys in Rome first round and Bacsinszky in Madrid, and then it's difficult to get back in the groove.
Yeah, definitely not happy with the place I am at right now. The most important part is that I'm willing to work; I'm ready, too. I've been through much worse than a couple of bad results. It's not a thing of attitude or lacking of attitude or work. It's just a matter of lacking of confidence, and I'm ready to dig myself out of there."
– Andrea Petkovic on her recent dip in form.
"My game actually feels good. My shots feel good. My movement feels good. So I think it hurts a bit more knowing I can play really well right now.
But I know it's a long process and a long journey. When I restarted working with Nick, we talked about a long-term plan. Of course immediate results would be great, but it's trying to improve over the long run to become the best player I can be.
And, yeah, so that's talking months, a year, or more. So I have to kind of keep that in my head, that that's the ultimate goal. But I know my game is there. If you can put it all together, immediate results are possible as well."
– Bouchard on the long road back. She'll be ranked outside the Top 45 after the French Open.
"I called her because I had lost seven or eight matches in a row, so I was a bit nervous. I wanted to win matches. So the problem was with me that I didn't focus my energy correctly.
"My mind was not where it should have focused. As you said, I had tried other psychologists, but so far, I had not found the right person. But she has helped me a lot. I was going through bad moments, and she told me three, four, five things that really help me considerably."
– Carla Suárez Navarro on working with a sports psychologist since September.
"I'm just like, I'm here to play tennis. That's it. I'm not here to do anything else. I did have a conversation with the tour director afterwards, because I respect every person on the court and I want respect, too. I was pretty clear on that with him."
– Venus Williams on getting a rare coaching violation.
"I think it was a good match, a beautiful match, as well. On both sides, I think. Sometimes, you know, there are days that she's not really into the match or she has difficulties due to what she does, but today I think it was really difficult for both of us. I think I put out good tennis, solid, from the first to the last ball. And during the rallies I thought that "she was beatable."
But then, as I said, I told you, she's exceptional, and her biggest strength is her serves. She hit me so much with those serves. But then I'm a bit frustrated. She's such a great champion, and she manages to escape and find a way out with this weapon."
– Kristina Mladenovic after losing to Serena Williams in the third round.
"I was actually laying on the couch hanging out with CoCo and I was asleep. All of a sudden I heard my name on a radio. They were like, We can't find Madison. I'm like, I'm right here. Then they were, Okay, you're next on. Went from fourth to next. How does that work?
Once I kind of absorbed the information and had a second to process it I was really happy, just because I didn't want to get stuck playing super late and potentially having the rain stop us."
– Madison Keys on getting notice her third round match had been moved.
"I think that this is quite exceptional, to be able to stay at this level at the age of 36 or perhaps 35. I mean, it's something that gets on our nerves, you know, I mean, for us. And she managed to kill me when she wanted to during the third set.
She has so much experience. She's a great champion. Maybe she's less consistent than before, but just a little. She's still in the top 10. Nobody notices she's less consistent. So you have to play full seasons. I fully respect what she does."
– Alizé Cornet on her respect for Venus Williams.
"I think her experience is of course when she was playing on court and she understands what I feel, and that's the main key, I think. Because for some coaches who didn't play on such a high level, it's tough, I think. It's just different. It's not bad; it's not good.
That's why for me it's important to have my coach Iain, he helps me more like technical things, and she's more on the mental thing for me. So everything worked well this period of time and in this stage. So it works now."
– Elina Svitolina on having Justine Henin as an advisor.
"I saw Justine for the first time today. I didn't even realize she was coaching. I was like, gosh, it's a little bit surreal."
– Serena Williams on seeing Justine Henin around the grounds.
"I speak with my coach before the match in the same day, not before, because otherwise I would have dreams with my opponent and it's not good for me (laughter).
In the morning before the warmup, I speak with my coach, and he tells me what I have to do. I just put it in my game."
– Simona Halep on how she prepares for matches.
"She just gave me the mop today. (Smiling.) That's all I can really say. It sucks and I'm sad, but she played a good match."
– Sloane Stephens after winning three games in a loss to Tsvetana Pironkova in the third round.
"I feel like everyone's career has been like pretty like steady and mine has been like, What am I doing? I guess that's just part of being an athlete, part of sports, part of growing up.
If I hadn't won three tournaments this year I would probably be kind of disappointed. There are definitely things to be happy about with that. Hopefully during some of the majors I can get back to where I was before making the second week pretty consistently. Something I'm just going to have to work on."
– Sloane Stephens, still trying to find consistency from tour events to Slams.
"I said to everyone after the match, I was like, Jeez, I can't remember being so happy to win third round. Yeah, it means a lot."
– Sam Stosur, after beating Lucie Safarova in the third round. Stosur was 3-11 against Safarova heading into the match.
"At the risk of sounding really arrogant, I kind of think that I can play with like the top-10 players, like I feel like I can play with anybody. I just have to be consistent and not freak out all the time.
I feel like I've got to have more strategy, because it can't be just this one thing all the time. I feel like I do have like the strokes and the power, though. But like, please — I don't want to sound like I'm a mean person while I'm saying this."
– Naomi Osaka, who made the third round in her French Open debut after making the third round in her Australian Open debut.
"It's hard to be the leader in any position, and he's done wonderful. I think everyone enjoys working with him. I have spoken with him, too, and he takes everything into account.
It's tricky, because there are so many players and they all need attention. Not tennis players, but, you know, the tournaments and different bodies that need — everybody needs a win. Everybody needs to walk out of the room feeling like that they got something out of it. So that's not an easy thing to do, and he does well with it."
– Venus Williams on WTA CEO Steve Simon.
"I'm disappointed. I can play better. But it was a wonderful moment. It was very emotional. The public supporting me helped me coming back in the match when I thought it was over. I think they believed more in me than I believed in myself."
– Caroline Garcia, after losing to Agnieszka Radwanska in the second round.
"I haven't put my name out there or anything like that, so it's just my friends. So the fact that people can't just write death threats to me after matches and stuff feels really good. I think I manage [the negative comments] pretty well. There are definitely days where I'm stronger and other days where after a tough day I'll read them and sometimes that gets tough.
But it's to the point where you have a tough match and you know you're going to have a lot of horrible comments you just scroll to the top, don't read it, close it, and don't deal with it for a few days."
– Madison Keys on Snapchat and social media.
---
Best Q&A Moments:
Q. We know that Serena has conquered the French language or done a good job. We have not really heard you speak French. Have you had an interest or not very good at it, or tell us about it.
VENUS WILLIAMS: I'll let her do that part (smiling).
Q. Not into languages?
VENUS WILLIAMS: Actually, I am. But, you know, she's bold, you know.
…
Q. The $64 question, how do you come down from this and focus on two days from now when you have to play that fourth round?
SHELBY ROGERS: Maybe you guys could tell me. I don't know. (Laughter.)
…
Q. How does your sister take your success? I know you two have quite the rivalry.
NAOMI OSAKA: We had a roasting battle yesterday.
Q. How did that go?
NAOMI OSAKA: I think I won, because I kept — this is not going to make sense. But basically we were like dissing each other, and so I just kept posting pictures of her, like the most unflattering pictures ever.
Then after a while she stopped responding. I think I hurt her feelings. But, yeah, we're still like best friends and whatever.
Q. Everyone I have talked to who knows you continues to tell me that you're the kindest, sweetest person in the history of civilization.
SHELBY ROGERS: You're going to make me cry.
Q. Then I'll change gears here. Do you have any plans to become hardened and bitter?
SHELBY ROGERS: No, I don't think I can (smiling).
…
Q. How are things with the adductor? You've had that so many…
MADISON KEYS: (Knocking on wood.)
Q. I'll do that too.
MADISON KEYS: Knock on wood. Everyone knock on wood.
Q. How do you feel about that?
SVETLANA KUZNETSOVA: About what?
Q. The match.
SVETLANA KUZNETSOVA: (Laughter.) I feel about everything.
…
Q. Is it tough to dig when you have grass coming next?
ANDREA PETKOVIC: Well, I will dig, but maybe literally on the court. (Laughter.)
…
Q. Talk about limiting your schedule this year, is that scary as a player that plays quite a bit? When you play more you can get more points and ease the pressure a little bit. Now you play less and it's a lot of pressure each tournament.
AGNIESZKA RADWANSKA: If you ask me that five years ago I would say, Yeah, it's very scary and I would feel weird not to play hundred matches. Here it's different story. Like I was saying, experience is the thing, really using and making a schedule. Now to be home for two, three weeks in the middle of the season is not the scary thing anymore. Can just help you.
Sometimes I have this part of the season that I just rather practice more than playing matches and enter another tournament. So that's what I decided to before I came here, and so far it's working.
All photos courtesy of Getty Images.