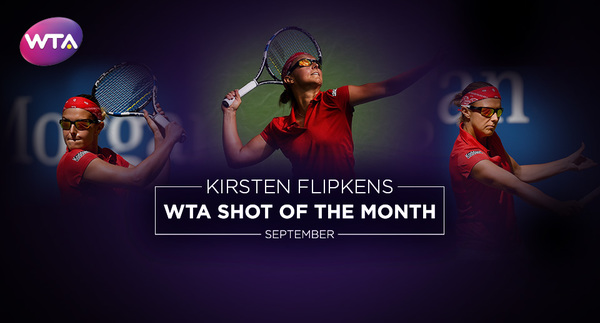 September was packed with plenty of amazing shots – we narrowed it down to the five best.
In the end, it was Kirsten Flipkens, who played a key role in the rally Agnieszka Radwanska won to clinch August's Shot Of The Month, after showing off more of her signature variety at the Korea Open in Seoul. On her way to beating Kristyna Pliskova in three tough sets, the Belgian pulled out all the stops to beat her powerful opponent, including a behind-the-back backhand stab to pass Pliskova at net.
Click here to watch all of September's finalists.
Final Results for September's WTA Shot Of The Month
1. Kirsten Flipkens (47%)
2. Agnieszka Radwanska (39%)
3. Simona Halep  (6%)
4. Caroline Wozniacki (4%)
5. Angelique Kerber (3%)
2016 WTA Shot of the Month Winners
January: Caroline Wozniacki
February: Agnieszka Radwanska
March: Agnieszka Radwanska
April: Monica Niculescu
May: Simona Halep
June: Agnieszka Radwanska
July: Simona Halep
August: Agnieszka Radwanska
---
How it works:
Five shots are selected by wtatennis.com
Winner is then determined by a fan vote on wtatennis.com