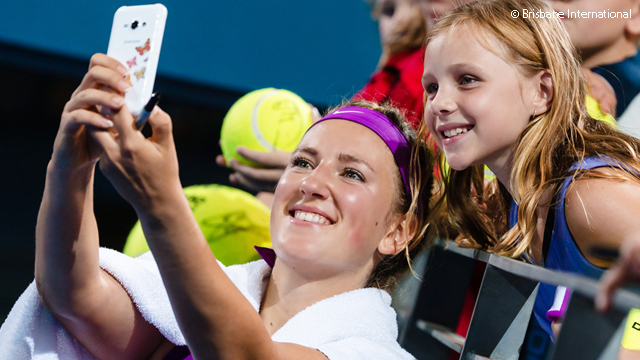 MELBOURNE, Australia – Victoria Azarenka's revival at the Brisbane International, where she stormed to her first WTA title in almost two and a half years without losing a set, couldn't have come at a better time, with her favorite Grand Slam – the Australian Open – just a matter of days away.
She's hoping her journey back to the top of the tennis world will continue at the Happy Slam.
"I'm excited to follow my journey. I'm excited to live my journey," Azarenka said. "It's a great feeling. Stay in the moment, be present – I'm really enjoying this moment. I think it's precious. So I just want to enjoy that and see how I feel tomorrow, see what I want to do, and just try to keep going.
"The focus is still very much on Melbourne. I'm going to do everything I can to prepare and feel the most comfortable to start the tournament. I can't wait to be in Melbourne. I love the city."
After three blockbuster seasons – she finished 2011 at No.3, 2012 at No.1 and 2013 at No.2 – the injury bug bit Azarenka hard, limiting her to just nine tournaments in 2014 and 14 in 2015, and at one point pushing her as far down as No.50 in the world, her lowest ranking since all the way back in 2007.
But the Brisbane title propelled her from No.22 to No.16 on this week's WTA Rankings, not just guaranteeing her a Top 16 seed for the Australian Open, but her highest ranking since August 2014.
The former World No.1 isn't calling this a comeback, though. "I don't think there's a name for it," she told reporters in Brisbane. "I think it's more for you guys to put as a headline. For me, it's like you're reading a book, and you just turn the page. That part of it was over – you just flip the page.
"I think that's really exciting. And I can't wait to read the next page."
That next page will be written at the Australian Open, and it's her best Grand Slam for a reason – she won her first two Grand Slam titles there in 2012 and 2013, beating Maria Sharapova and Li Na in those two finals, respectively, and even through her injury-marred seasons since then she still made it deep, reaching the quarterfinals in 2014 (falling to Agnieszka Radwanska) and the fourth round in 2015 (falling to Dominika Cibulkova). She's also won 35 of her last 39 matches in Australia, period.
And given she's been Serena Williams' toughest match-up the last few years – she's the last player to beat the World No.1 in a final, at Cincinnati in 2013, and she pushed her to three sets in all three of their meetings in 2015 – could a rejuvenated Belarusian be the one to stop Williams Down Under?
Tell us what you think: Can Azarenka win a third Australian Open crown this year?