Five Things To Know About Alexander Zverev
Learn about the 23-year-old's achievements, love of dogs and more
Alexander Zverev is the No. 7 player in the FedEx ATP Rankings and has lifted 11 trophies from 18 ATP Tour championship matches since 2016.
ATPTour.com looks at five things you should know about the 6'6" German.
1) His Biggest Success Came In London
At the 2018 Nitto ATP Finals, Zverev produced back-to-back straight-sets wins against Roger Federer and Novak Djokovic to become the youngest champion at the elite eight-man event in a decade. The 11-time ATP Tour titlist advanced to the semi-finals with a 2-1 round-robin record and found his best level to become the first man to beat Federer and Djokovic at the same edition of the event.
"It's quite astonishing, winning this title, beating two such players back-to-back, Roger and Novak, in semi-finals and final," said Zverev. "It means so much. I'm incredibly happy and incredibly proud of this moment right now."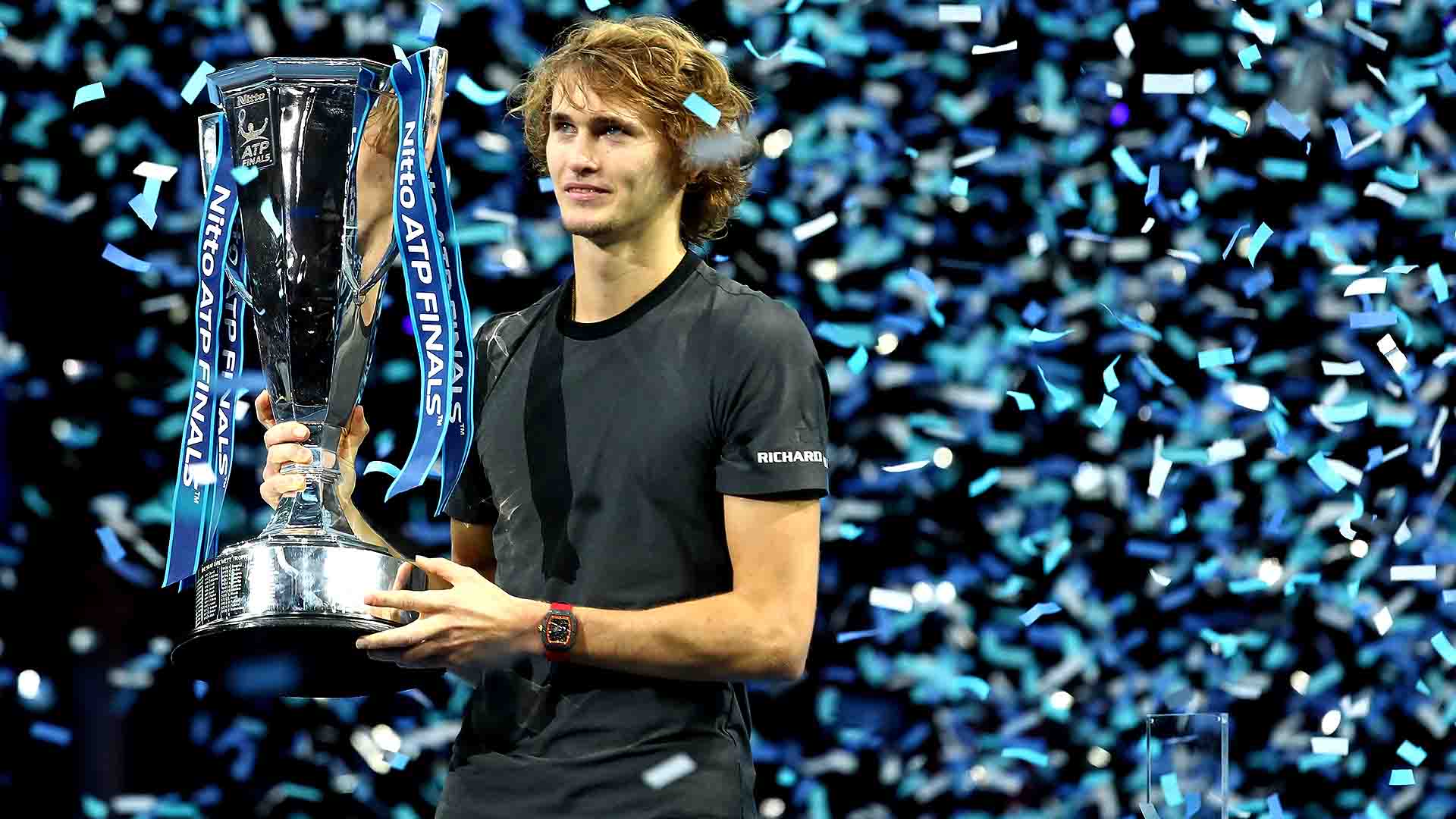 2) He Is In Great ATP Masters 1000 Company
Zverev is the only active player outside the Big Four of Djokovic, Rafael Nadal, Federer and Andy Murray to own three Masters 1000 trophies. The German captured his first Masters 1000 crown at the 2017 Internazionali BNL d'Italia, beating Djokovic in straight sets in the final.
Zverev doubled his trophy count at the level at his next available opportunity with a straight-sets victory against Federer in the 2017 Coupe Rogers final. In one of the greatest weeks of his career, Zverev added a third Masters 1000 title to his collection after cruising through the 2018 Mutua Madrid Open draw without dropping serve.
3) He Has A Familiar Quarantine Buddy
During the COVID-19 pandemic, Zverev has been quarantining in Florida with a familiar face: Marcelo Melo. The pair has been good friends since 2015 and are often seen together when competing at the same tournaments on the ATP Tour.
During an Instagram live session last month, Zverev jokingly reflected on their first meeting at the 2015 ABN AMRO World Tennis Tournament in Rotterdam.
"He was in the locker room by himself. He's always in the locker room by himself. He never had that many friends. I was this new guy, I was 18. Everybody kept warning me [about] him. I was like, 'Nah, he looks like he's okay,'" said Zverev. "I was like, 'Hey buddy, you want to have lunch?' He was so happy, because finally somebody wanted to become friends with him, and I took him on. Every stranded puppy needs a home, so I take care of him."
4) He Is A Big Fan Of Basketball
When Zverev is not busy on the tennis court, his eyes may be focussed on a basketball court. The 23-year-old is a keen follower of the Miami Heat and had the chance to meet the NBA team's former shooting guard Dwyane Wade during the 2018 Miami Open presented by Itau.
When Wade retired from the sport last year, Zverev paid tribute to the three-time NBA champion on Instagram and named the American his 'favourite athlete of all time'.
Introducing new @MiamiHEAT power forward, Alexander #Zverev

What do you think, @DwyaneWade? ??#MiamiOpen pic.twitter.com/P7EkeUyAvm

— Miami Open (@MiamiOpen) March 22, 2018
5) He Is A Dog Lover
In the age-old debate between cats and dogs, Zverev stands firmly on the side of dogs. Despite already owning a canine companion, Lovik, Zverev adopted a second dog at the 2019 Miami Open presented by Itau following a visit to the Humane Society of Greater Miami.
Later in the year, Zverev's collection of dogs expanded even further. The German took to Twitter to proudly show off his 'grandchildren' after Lovik became a father.
I'm a grandpa? #lovikfam pic.twitter.com/z5fTfsUl8j

— Alexander Zverev (@AlexZverev) September 6, 2019