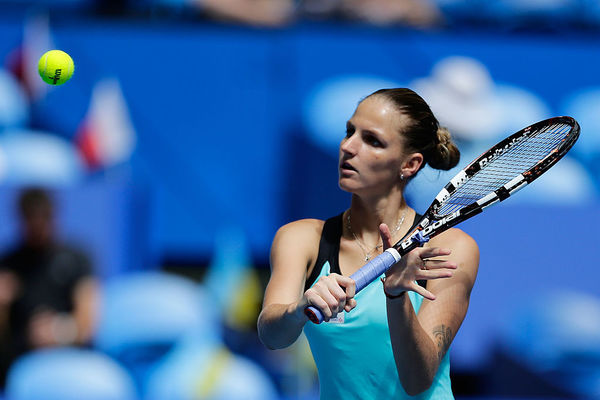 There are few athletic endeavors as grueling as the 10-month season of professional tennis, a non-stop world tour that asks its athletes to peak several times throughout the year with little downtime in between. One would then expect any respite, however brief, to be among the most cherished times of year.
The official off-season affords a player nearly two months without set schedules or obligations, time that can be used to refresh the body and reinvigorate the mind for the year ahead. But success on the WTA tour requires a competitive wanderlust that can be hard to switch off, even for a few weeks.
"I didn't stop, actually," Karolina Pliskova said this week in Sydney. Peaking at No.7 late last summer, Pliskova played an incredible 28 weeks of tennis last year – including two Fed Cup weekends to help lead the Czech Republic to their fourth title in five years.
"I really didn't have any off-season because I was playing IPTL. I just had one week off after Fed Cup and that's it. Since then, I was playing tennis, and I'm still playing. I haven't stopped yet."
The Czech star hit the ground running in 2016, too, stepping in for compatriot Lucie Safarova to play a week of Hopman Cup before heading to the Apia International Sydney.
"Lucie wasn't ready so I decided to go to Perth. Even though I didn't feel like it was a good week, every match is important. I'm happy I had a few matches there and now a few more matches here. It's a great start to the new season and it's important to have some wins before the Australian Open.
It was the nearly full slate of matches played for the International Premier Tennis League's OUE Singapore Slammers, however, that turned the most heads. Leading yet another team to victory just before Christmas with one-set wins over the likes of Serena Williams, Samantha Stosur, and Kristina Mladenovic, it looked to many as though Pliskova was burning both ends of an already-melted candle.
The 23 year old doesn't see her scheduling in quite the same way.
"I feel fine, though maybe I was expecting worse," she said after her first round win over Ana Ivanovic. "IPTL was fun; it wasn't that bad, physically. It was more about traveling. There was not much of tennis and not much of the things I had to deal with compared to the year before, when I had a really tough off-season home.
"I had my fitness coach and physio with me the whole three weeks, so I was doing some things; it wasn't like I wasn't practicing at all."
Belinda Bencic was Pliskova's IPTL teammate, and felt similarly about forgoing a traditional off-season in favor of shaking up a part of the season where she winless in 2015.
"The most difficult thing about the start of the season is that you're not in your rhythm yet," she told press in Sydney. "You have to find everything again, your whole game. In IPTL, we were all super rusty, but by the first match in Brisbane, I didn't feel rusty at all. I felt like I was into it."
Bencic was the story of last summer, winning titles in Eastbourne and Toronto, but injuries curtailed her Asian Swing and left her looking to get off the practice court and back to competing with the best women in the game.
"Last year, I was just practicing a lot and I couldn't compare myself against the field. You think you're playing good but then you see the others and you're like 'ok, no, not really' and you get killed.
"Some players took IPTL as an off-season holiday thing, but me, I was preparing. I was happy I got some matches. We were practicing every morning and in the afternoon you could try out what you've practiced in a match. It was also fun, better than two months of practice."
Much as she also enjoyed her tennis-filled off-season, Pliskova was eager to return to competition in the truest sense of the word.
"I was really looking forward to playing a normal tournament, rather than these exhibitions. Even last week, I was playing Hopman Cup and I just feel better at regular tournaments instead of an exhibition."
With almost metronomic precision, Pliskova's timing can leave on-lookers breathless, but it's a skill she finds hard to hone on a practice court.
"I really don't like practicing, so even if I'm losing or not playing well, it's just better to play matches."
A former No.1 who could relate to that sentiment is Jelena Jankovic. Struggling to rediscover her form following a run to last year's BNP Paribas Open final, the 2008 US Open finalist elected to add to her schedule in 2015, taking wildcards in Strasbourg, Birmingham and even a WTA 125K in Nanchang – which she won – propelling herself to even stronger results at the Western & Southern Open and a pair of titles in Guangzhou and Hong Kong.
"At the end of last year, I was able to pick up my game quite a lot and I was able to play much, much better," she said after her opening round win over Coco Vandeweghe. "I was getting better with each tournament, getting stronger physically and feeling more confidence. I was feeling pretty good about my game and about myself.
"With me, the more I compete, the better I get."
Though Jankovic played a season of the Champions Tennis League that finished in early December, the Serb will come into the Australian Open with just three best-of-three matches under her belt in 2016, the most recent being a gut-wrenching loss to Sara Errani that demonstrated some of the rust that the likes of Pliskova and Bencic have already shaken off.
"Maybe it's better to keep going," Pliskova mused, "because sometimes when you stop it's harder to start again."
All photos courtesy of Getty Images.