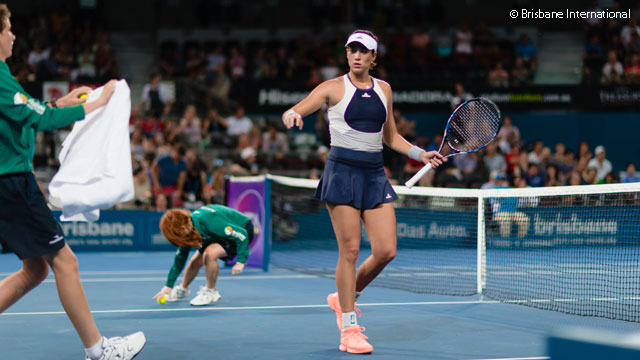 BRISBANE, Australia – No.2 seed Garbiñe Muguruza became the latest casualty at the Brisbane International when she was forced to retire from her second round meeting with Varvara Lepchenko on Wednesday evening.
Watch live action from Brisbane & Auckland on WTA Live powered by TennisTV!
Following on from the last-minute withdrawals of Maria Sharapova and Simona Halep, the path to the title lay wide open, but Muguruza saw her chance of silverware scuppered when she aggravated a long-standing foot injury.
"I started to feel it at 3-3, something like that," Muguruza said in her post-match press conference. "But it's just a pain that sometimes you have in the foot, especially when you're starting to compete and to run a lot."
Visibly struggling for the remainder of the set, in which she coughed up 27 unforced errors, Muguruza played through the pain barrier, fending off four set points before finally succumbing in a tense tie-break. Despite lengthy treatment during the changeover, it was quickly apparent that her resistance would not last much longer, admitting defeat after Lepchenko held serve the following game.
The Spaniard remains optimistic that the injury, which she carried over from the previous campaign, will not jeopardize her chances at the upcoming Australian Open.
"Last year I felt it almost during the whole season. I felt it also in the pre-season a little bit, but especially here over the last few days, playing points, running more, more, more," she said.
"I thought in the match I was going to be able to play with the pain, but it just got to a point where I'm like, 'Hey it's getting worse, so just stop and let's treat it and hopefully it's gone in couple of days.'"
Meeting Lepchenko, who had been leading 7-6(9), 1-0, for a place in the semifinals will be Muguruza's doubles partner and fellow Spaniard, Carla Suárez Navarro.
"Carla's a very tough opponent and she's playing well so I'm expecting the best from her and I'll have to fight for every ball," Lepchenko said.