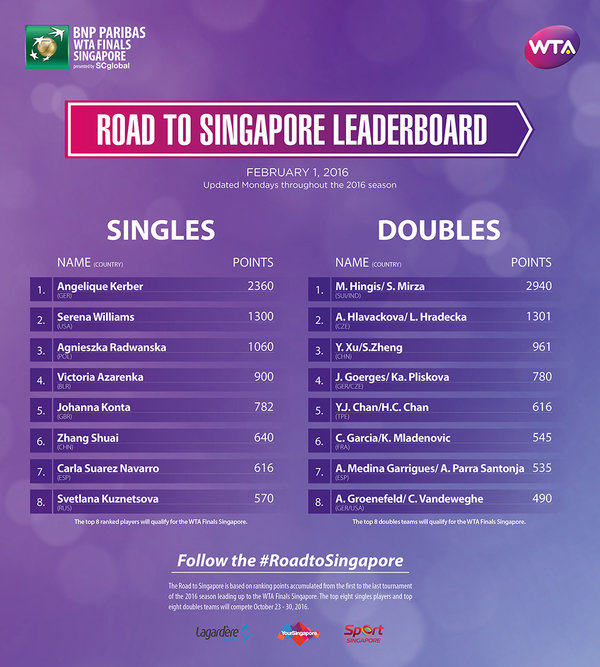 MELBOURNE, Australia – Following the Saturday's Australian Open final, the WTA has unveiled the first Road To Singapore leaderboard, with Angelique Kerber vaulting to the top.
The Road To Singapore is the year-long journey to the WTA's crown jewel event, the BNP Paribas WTA Finals Singapore presented by SC Global, and Kerber, who just won her first Grand Slam title at the Australian Open, has kicked off at No.1. Runner-up Serena Williams is in the No.2 position.
Defending WTA Finals champion Agnieszka Radwanska has launched a great start to her title defense – winning the Shenzhen Open and reaching the semifinal at the Australian Open to round out the top 3 on the Road to Singapore. How has winning the WTA Finals prepared Radwanska for continued success in 2016? Watch the video above to hear from the champion herself.
A pair of familiar faces sit atop the doubles leaderboard; the team of co-No.1s Sania Mirza and Martina Hingis won their third straight major title – along with titles at the Brisbane International and Apia International Sydney – to start the year at No.1. Australian Open finalists Andrea Hlavackova and Lucie Hradecka are No.2.
The Top 8 singles and doubles players on the Road To Singapore Leaderboard will qualify for the $7 million 2016 BNP Paribas WTA Finals Singapore presented by SC Global.
Here's who else is in the Top 8 of the first Road to Singapore leaderboard: