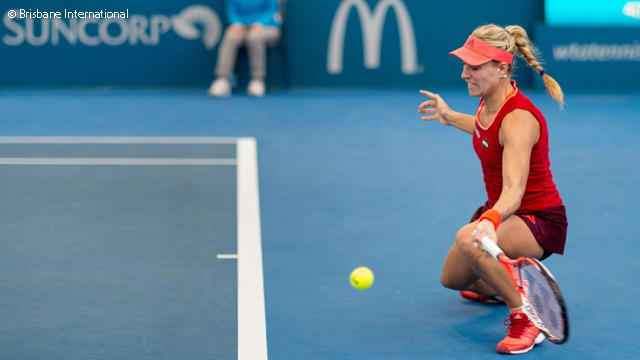 BRISBANE, Australia – No matter who wins Saturday's final at the Brisbane International, one player will walk away with a drought-busting win. No.22 Victoria Azarenka is in her first final since Doha and aiming for her first title since Cincinnati in 2013, nearly two and a half years ago. Looking to stop her is No.10 Angelique Kerber, who will try and snag her first win in six tries over Azarenka.
The first week of the year began with much hand-wringing over the withdrawals and retirements of the Top 3 seeds in the tournament, with defending champion Maria Sharapova, World No.2 Simona Halep, and No.3 Garbiñe Muguruza exiting the tournament under a cloud of injury. It will end with a rematch of the best women's match of 2015, when Azarenka got the better of Kerber in the third round of the US Open, winning 7-5, 2-6, 6-4 in a grueling match.
"We always bring the best out of each other, I think," Azarenka said. "I mean, I hope we do. It was a pretty amazing match, so I hope we can put on a good show. I think the final deserves that."
Azarenka has been in blistering form all week. She has dropped just 13 games in four matches, posting two bagel sets along the way. Her run in Brisbane most assuredly puts her on the shortlist of favorites at the Australian Open – she is, after all, a two-time champion in Melbourne – but Azarenka doesn't want to get ahead of herself.
"I'm feeling pretty good right now," she said. "I'm not saying anything besides that. It's irrelevant. Tomorrow is a match. I'm looking forward to that. I never jump ahead. It can seem so close, yet so far. Done those mistakes before, and I'll stick to being present."
Kerber has looked just as sharp this week. Aside from dropping the first set of her tournament to Camila Giorgi, Kerber has been untouchable, notching wins over Giorgi, Madison Brengle, Anastasia Pavlyuchenkova, and Carla Suárez Navarro. Most notably Kerber has unveiled a more aggressive gamestyle. A change of strings during the off-season – she now uses a Yonex hybrid and natural gut – has given her more pop on her groundstrokes.
"I was working a lot in the last few weeks on this, so I'm trying to transform it to the matches," Kerber said of her newfound aggression. "It works good right now. Of course I must take the decision and just go for it and not hope that the other one will miss. I will try to make the points by myself."
Looking towards Saturday's final, the big focus point will be Kerber's serve. Azarenka is one of, if not *the* best returner in the game when she's at her best. Much of her 5-0 record against the German is a result of her ability to dominate Kerber's second serve. Kerber hopes her off-season work on her serve will pay off now.
"I worked a lot in my off-season on my serve, and I'm feeling that the serve is also a little bit faster," she said. "Also I'm trying to go for it with my second serve, not only pushing the ball. Of course that needs time. I think I'm on the good way. I'm feeling better on my serve."
So will we see another three-set epic on Saturday? Kerber's 2015 was defined by her participation in the year's best matches. Earlier in the week Kerber's compatriot and doubles partner Andrea Petkovic – the two are into the doubles final against Martina Hingis and Sania Mirza – was asked why her friend always finds herself embroiled in dramatic matches against the game's best.
"I think one part of her game style is that she plays fast but just not too fast to make the other girls play well," Petkovic said. "She's too good for the lower-ranked players, but for the top players I think she [hits] exactly the pace they need to play really well.
"But Angie is somebody, when she gets challenged, she gets the best out of her as well. So I think these two things coming together just make for Hollywood, popcorn, great movie nights."
Come back on Saturday as WTA Insider live blogs the final from Brisbane. The final begins at 7:30pm local time, 9:30am GMT.