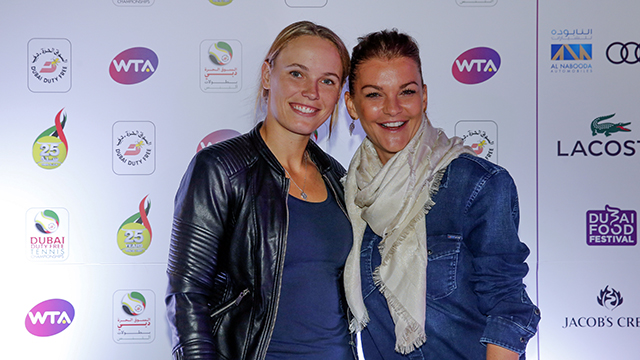 Dubai Duty Free Ambassador Caroline Wozniacki and No.4 seed Agnieszka Radwanska posed for a quick snap at the Dubai Player Party.
Colm McLoughlin, CEO and Executive Vice Chairman of Dubai Duty Free, and wife Breeda grabbed a photo with brand ambassadors Wozniacki and Zhang Shuai.
The glamorous player party at the Gardens at Jumeirah Creekside Hotel showcased the best of Emirati hospitality.
Zhang even tried on an Emirati dress for the occasion!
But some of the night's biggest attractions were the majestic falcons that Dubai is famous for.
Americans Lauren Davis and Abigail Spears didn't look too confident with them…
…but Spears got the hang of it eventually!
Olympic champion Monica Puig looked totally relaxed with the majestic bird…
…as did Radwanska!
The 2012 Dubai champion has clearly had experience holding falcons here before.
Dubai Duty Free has been an ambassador for women's tennis in the Middle East since 2004, and they pulled out all the stops for one of the WTA calendar's favorite events.
Martina Hingis even made a couple of friends during the party…
…along with Dubai Duty Free Ambassador Wozniacki!
There was fun, dancing, magic and more at the Dubai Duty Free Tennis Championships Player Party!