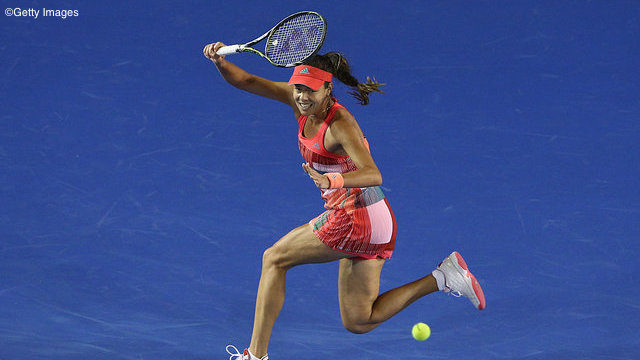 MELBOURNE, Australia – Former No.1 Ana Ivanovic had to deal with a half hour break when a spectator took a spill on Rod Laver Arena, but the Serb maintained her focus to close out Latvia's Anastasija Sevastova, 6-3, 6-3.
Sevastova first made waves in 2011 when she reached the round of 16 at the Australian Open, but a brief retirement took her out of the game for nearly two years before she came back last January. Coming through three rounds of main draw qualifying, the 25-year-old played Ivanovic tough over two sets, but was ultimately undone by unforced errors – 27 to Ivanovic's 17.
Ivanovic, by contrast, played a much cleaner match, breaking serve four times and winning 83% of her first serves.
"I enjoy playing here so much; this is one of my favorite courts in the world," Ivanovic said during her on-court interview. "It's always good to be back."
The No.20 seed has looked solid through her first two matches, a major improvement over her last appearance in Melbourne, when a broken toe hampered her through an opening round loss.
"I tried to work on my fitness during the off-season; that needed improvements after last season. I hired a new fitness coach, so it's been really great. We did a lot of prevention work for injuries, and fitness and on-court work.
"It's a work in progress."
Up next for Ivanovic is the winner of the second round match between No.15 seed Madison Keys and Yaroslava Shvedova, the latter of whom pushed her to three sets at last year's French Open.
"Every match is tough and we've seen that throughout the week. Every opponent is tough and there have been a lot of tricky first round matches.
"But I'm really thrilled be to be through and you guys are amazing, so excited about your tennis, so keep it up!